My name is Brad and I love learning new things.
I am an engineer, hacker, and traveler currently working out of the OH-WV-KY metro area.
What I Do
I am a Principal Software Engineer - Tech Lead who has both contributed to and led development on a diverse set of software projects in domains such as:
Insurance (Health, Auto, Homeowners, and many more)
Healthcare
Human Resources
Law
Public Utilities
Commerce
Education
…and for clients such as:

WV Board of Law Examiners
Favorite Technologies

Back-end / Desktop / Mobile – C#, Python
Front-end – JavaScript / TypeScript, Angular, React
Databases – SQL Server, PostgreSQL, MongoDB
Cloud / DevOps – AWS, Azure, Docker, Kubernetes
Leftovers – Powershell, Git
As a full stack developer I have often had to step outside of my typical comfort zone and completed or contributed to projects in many other languages and frameworks. Quickly learning and applying new things is my specialty.
I've also performed DevOps tasks such as setting up automated build servers, continuous integration / deployment pipelines, and migrated some in-house hosted web apps to the cloud.
Background

I graduated from Marshall University with a B.S. in Computer Science and a minor in Mathematics as well as a 4.0 in-major GPA.
While at college, I was accepted into the WV Governor's Internship Program to work with the developers at the WV State Tax Department.
Upon the conclusion of my internship, I was contracted to single-handedly develop an online filing web application that tobacco wholesalers have used to collect $107 million in tax dollars in the year 2013 alone.
Once my contract with the state was done, I jumped on board a software contracting company and built dozens of web, mobile, and desktop apps using all sorts of languages and frameworks.
I am currently working 100% remotely full time with a geographically-sparse team on a SaaS web app that is widely adopted within the insurance industry.
Leisure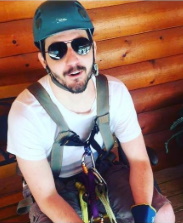 Since I work as a 100% remote developer I use my location independence to my advantage and have been exercising my freedom to travel.
I powerlift in my home gym and eat healthy to counteract the hours spent staring at screens.
I play and teach guitar. I definitely need to record more of it so I can share it online!
I am an audiophile who listens to way too much music. In the year 2020 alone my total listening time clocked in at 41 days, 7 hours.
I hang out on Stack Overflow and /r/learnprogramming to share my knowledge while learning more along the way.
Contact
If you wish to contact me email me @ brad at bradleycarey dot com or feel free to use the form below.
About The Site
CI/CD pipeline provided by Netlify:
The site itself is built using Hugo static HTML and CSS website generator. Many of the old blog posts were exported from an ancient wordpress site.
The code for this site can be viewed on Github. See a typo? Submit a PR and I will be your friend forever.